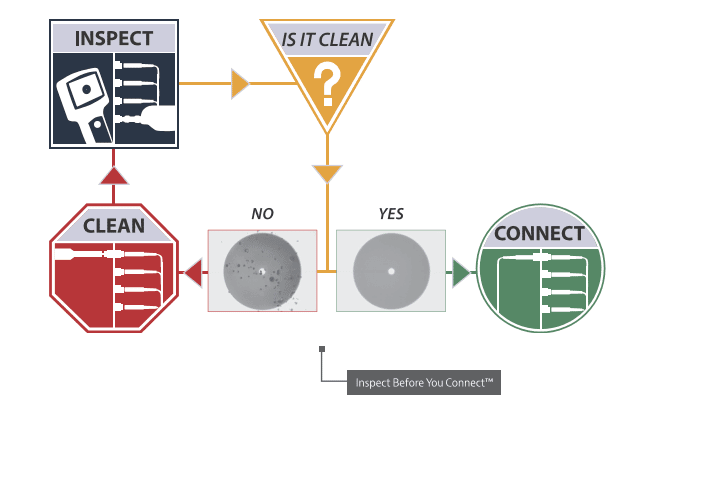 Fiber Inspection & Cleaning
Contamination is one of the main causes of optical network failure. Just one particle of dust can cause permanent damage and interrupt traffic. Visual fiber inspection is the only way to determine if fiber optic connectors need to be cleaned before coupling. 
Mampaey Engineering is the official distributor for VIAVI products and offers a comprehensive product portfolio for inspecting every fiber connector and application in your network. Consistent use of the "Inspect Before You Connect" (IBYC) model ensures that proactive inspection is performed correctly every time that fiber optic end faces are cleaned prior to mating. This eliminates the installation of dirty or damaged fibers into the network and optimizes network performance.
FiberChek™ Probe Microscope
The essential fiber tool for every technician!
The FiberChek probe builds on industry-leading VIAVI expertise in fiber inspection to deliver an all-in-one handheld for technicians at every skill level. Meeting all fiberinspection needs with built-in image viewing, auto-focus, pass/fail analysis, and result storage and recall, the FiberChek probe completely automates inspection workflows to ensure fast and accurate performance. Used alone or connected to other devices (via WiFi and USB), the FiberChek probe is the essential fiber tool for every technician..
Key Features 
– Integrated touch screen with live fiber viewing 
– Auto-center 
– Auto-focus 
– Built-in fiber end-face analysis 
– User-selectable acceptance profiles 
– Stores results on device or exports 
– Connects via WiFi and USB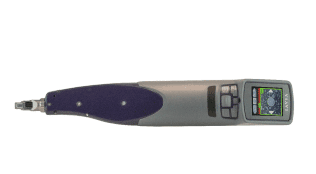 FiberChek Sidewinder™
Automated multifiber connector inspection and analysis FiberChek Sidewinder is the industry's first "all-in- one" handheld inspection and analysis microscope for multifiber connectors such as MPO. The latest addition to the VIAVI award winning FiberChek family delivers a completely automated solution to inspect and analyze every fiber of an MPO or other multifiber connector with industry-leading reliability and speed.
Key Features 
– Integrated touchscreen- User-selectable acceptance profiles- Stores results on device or export- Live fiber viewing- WiFi and USB connection to a PC or mobile devices- Auto-center- Auto-focus- Auto-pan/scroll- All-day
battery
life- Built-in fiber end- face analysis- Built in acceptance criteria to industry standards     (IEC-61300-3-35)- Audible sounds for Pass/Fail results
P5000i Fiber Microscope
The P5000i makes it fast and easy to certify that every connection in your network is clear and optimized. This intelligent fiber microscope removes the guesswork from fiber inspection and provides reliable and objective pass/fail analysis of the fibers that connect customers to your network—ensuring the best user experience possible. The P5000i fiber microscope also works with the many VIAVI test solutions users already rely on for essential network testing.
Applications
– Ensuring physical layer performance and conformance to industry standards
– Capturing, analyzing, and grading fiber end- face images
– Standardizing fiber inspection, analysis, and grading processes
Key Features
– Repeatable pass/fail analyses
– User-selectable acceptance criteria
– FiberChekPRO software for analysis and reporting with a PC/laptop
– Automatic image centering and dual- magnification switching
– Connection to SmartOTDR- 2000/4000/5800/6000A/8000v2, HST-3000, SMARTClass Fiber, Certifier40G, DSAM, and CellAdvisor via USB
– Connection to mobile Android™ or iOS devices/tablets using FiberChekMOBILE or WiFi adapter module